Digitalization has opened doors to infinite opportunities for content creation and development. It is because of the easy accessibility of apps and software that creating videos no more needs professional intelligence. You can channel your creativity by creating your very own videos and motion graphics with the help of these applications and video making platforms.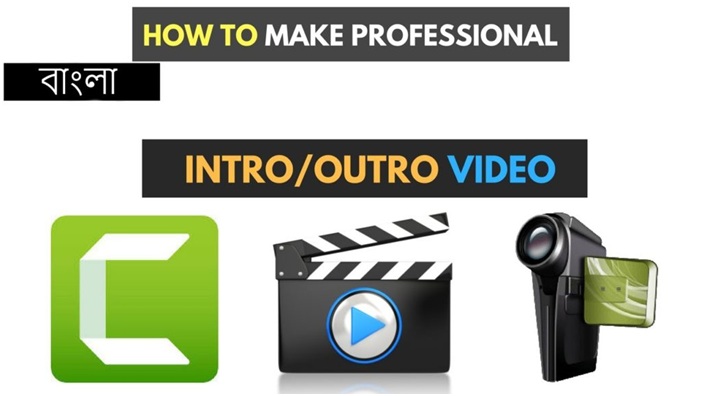 Since social media has emerged as a powerful communication entity, Video marketing is perhaps the by-product that flourished with it. If you wish to have a smoothly functioning business in the 21st century then you must adopt an integrated approach towards branding and promotions. Video marketing is one such essential element of the marketing mix that you cannot miss out on.
Why does my video need an intro?
Whether you are an independent content creator or a business entity seeking brand promotion, video marketing is the quintessential connecting dot between audience engagement and your social media presence. While you create stunning videos for YouTube or Instagram, you must remember to create a striking intro in order to get your viewers hooked to your content at the initial stage itself.
By inserting a creative intro, you reduce the chances of viewers bouncing off, thereby fostering a higher audience engagement rate. An enthusiastic welcome to all your viewers increases customer affinity and enhances your brand identity. By adding an effective call to action in your intro, you can boost the convergence rate on your website or social media accounts dynamically.
How do I create a profession intro through the Intro Making apps?
With the availability of various video making platforms, creating an attractive intro for your videos is no rocket science. You can do so in three basic steps. Please note that since every application functions differently, these steps may vary but will follow the same basic procedure.
Once you choose which intro maker to use, you will have access to a wide variety of templates in the theme-driven catalog that you can browse through for selecting the pitch-perfect template that suits your video style.
After you have selected the template as per your video theme, you must export your logo in jpg or png format and the intro maker will do all the heavy lifting for you. You must also make sure that the logo should be of high-resolution so that your intro video doesn't seem distorted. The application then generates a stunning video for you mainly consisting of your logo and tagline coming together with striking transitions. Most of these applications are free for the initial trial period, so you can simply download the animated logo video from the app onto your device or some intro makers also purvey the link to your video on your email id. There are also a few applications that allow customization after this step so you can make the necessary alterations. You can choose what resolution you want the video to be rendered in so that you never have to compromise on quality. The intro maker then takes you to the preview page to recheck your video content. If you aren't happy with the video, you need not worry. You can simply use a different template and recreate your video from scratch.
What are the things I must remember while creating an intro video?
Before you begin the process of creating your intro video, you must first strategize the content. Understand the purpose of your video and then create an intro that resonates with the theme. This shall help you choose the correct template for your intro video. If the mood of your video is minimalistic, vintage, or techie, the intro should incorporate elements that portray your content type. It should also fall in sync with your video style and duration. For a longer video,  you can create a long intro and vice-versa.
Make sure that before settling for a template, you do your research and browse through the massive template libraries that these video making platforms purvey. While creating the intro for your videos, one essential element that you must add is a strong call to action.  Adding a persuasive CTA generates more traffic to your website and social media accounts thus increasing convergence rate. It also poses a powerful tool for brand promotion on various video-sharing platforms like YouTube, Vimeo, and TikTok.
While exporting your logo to the application, ensure that the video background does not undermine your logo. If your logo and background have the same colors, they may merge into one unclear frame. Use contrasting colors or color blocking techniques for visually appealing videos. To ensure that your logo fits with the template tastefully, you must have a transparent background for your logo. To enhance the impactfulness of your video, you can also add a piece of background music that falls in unison with the action happening in your video. Select a track from the music library of the application or upload your own music and your intro video is ready. Happy video making!