Do you know or ever think which version of Outlook you use? Is it Outlook Version 32-bit or 64-bit? No idea, well you are not alone like you many other users who are Outlook clients do not know about this. In my point of view, it is quite upsetting as it is necessary to learn the basics, first. Therefore, one must learn these things as soon as possible.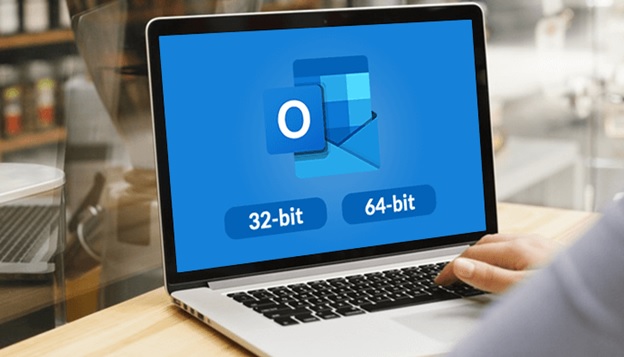 Useful Article – Outlook Not Receiving Emails
MS Outlook users generally bear two options either 32 bit or 64 bit. Previously in MS Outlook 2007, users used 32 bit. But in later versions, users were offered two options: 32 or 64 bit. Moreover, users can use one of these options according to their needs.
In this blog, I will discuss this thoroughly, so that users will know what these terms are and which is best to use? Also, they can use these bits according to the situation.
So, let's begin.
How to Check Office Version 32-bit or 64-bit command line?
We all know that different versions of MS Outlook for Mac and Windows have different steps for determining the bit version. 
For Outlook 2013 & 2016
First, initiate the Microsoft Program and tap on the File menu.
Secondly, choose the Office Account option from the List.
Thirdly, right-tap on the About Outlook option.
Lastly, the user can view the relevant bit in the upper section of the box.
At last, users will know the version of MS Outlook that either it is 32 bit or 64 bit.
To Inspect the Bit Version in Outlook 2010
First, start Outlook 2010 and visit the File tab.
Now, tap on the Help option.
Then, choose the Microsoft Office Help option.
Users can view the bit on the bottom right side of the screen.
 One can easily know the bit version in MS Outlook 2010.
If a user wants to use MS Outlook on Mac but doesn't know the procedure to know the version in a bit. Then, use this procedure or steps that are given below.
Procedure to use the Mac Outlook
First, start MS Outlook on the Mac Operating System.
Now, tap on Word in the Menu bar.
Tap on About Word from the drop-down menu.
Users will view the version on the screen.
If it is 15.24 and above version then Outlook is 64 bit.
Like the previous versions that were less than 15.24, it runs on a 32-bit program.
If you find these manual procedures difficult to perform, then users are advised to use the alternative tool. Users can use the Outlook Management Tool to save the Outlook PST files into OST, PDF, NSF MBOX, EML, MSG, RTF and HTML file extension. The utility is compatible with MS Outlook 2016/2013/2010/2007/XP/2002 2000/97 or earlier versions (32 & 64 bit). So by these procedures, one can easily inspect Outlook Version 32-bit or 64-bit.
Reasons to upgrade office 32-bit to 64-bit
Many users still use 32 bit as it can easily be installed and covers less space on the system. It can handle small file sizes but is unable to handle large file sizes. But for large files, users should use 64 bit as it handles file size over 2 GB.
For those users who don't know, there is a difference in the 32 or 64 bit based on their size. Now, many users want to use the 64 bit due to its attractive features. There are various reasons that users want to upgrade office 32-bit to 64-bit. These are –
●     Due to its working efficiency with huge data sets of Excel, PowerPoint, and various other office files.
●     Smoothly operate on large videos and images that are used in PowerPoint.
●     It works efficiently with more than 2 GB file size.
●     Utilize more RAM so that applications work or run smoothly.
●     Easily handles the large Access Database files and works efficiently.
Conclusion
This blog provides proper guidance regarding the reasons and relevant methods. So, it will help the users inspect if they are using Outlook Version 32-bit or 64-bit. Moreover, users will have to follow the instructions given above. They are free to use either manual or alternative methods. Furthermore, a Manual procedure is time-consuming. So, if they are looking for an effective and quick procedure, then try using the alternative solution.