[quads id=3]
How to transfer balance from Airtel to Airtel:  Hello Friends Are you searching on google for that trick in which you got the answer about How to transfer balance from Airtel to Airtel, then you're in the right place. Airtel is one of the fastest growing network providers in India. Are you an airtel network user? Recently, Airtel Mobile service provider added a new service, I.E., Money transfer service to all prepaid customers in India. This is the latest service offered by air to all its prepaid customers. Here in this article I have listed the possible ways of transferring the balance from Airtel to Airtel.
How to transfer balance from Airtel to Airtel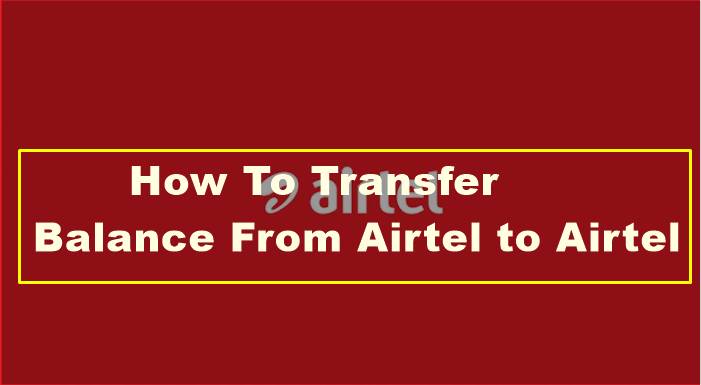 This money transfer in Airtel is very useful when there is no balance to make any important or important calls in your mobile. With the help of this service, Airtel customers who are living in India can send the balance from Airtel to Airtel.
What is balance transfer?
Balance Transfer by Name We can say for ourselves what it is, but let me tell you about it is a process in which you can share your mobile balance with another mobile number and note that balance transfer can only be done. When both mobile numbers, i.e., the donor and receiver should be on the same network.
Conditions for transfer of balance from Airtel to Airtel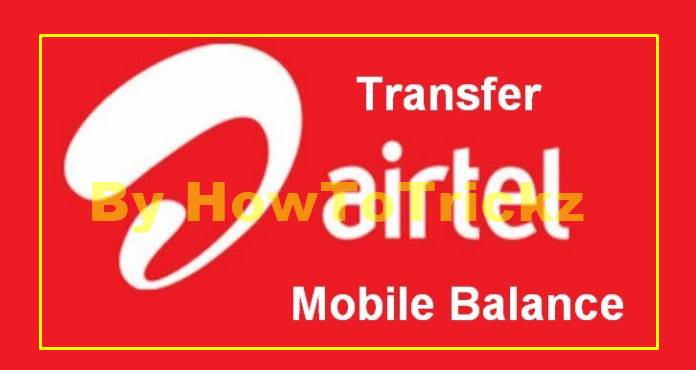 Customer must be an Airtel customer for at least 3 months to use the balance transfer service
You can transfer 5 balance per day.
Transfer amount should be in the limit of Rs. 5 to 101 rupees
Only the main account balance can be transferred.
Balance Transfer is available only for Airtel prepaid customers.
 [quads id=2]
Steps for Transfer Balance from AIRTEL to AIRTEL number:
Note: Transfers are not free as Airtel takes a small amount of money from one user to another to transfer the balance.
Step 1: Dial * 141 # from the airtel number that you want to transfer the amount
Step 2: You will get a pop-up window with different options – 1. Share talk time, 2. Tech Advantage etc.
Step 3: Enter or type "1" (share talk time) and click on "send" and wait
Step 4: Now you have to enter the amount you want to transfer between Rs. 5 and Rs. 40 and press Next.
Note: The minimum amount you can transfer is Rs. 5 and maximum amount Rs. 40, you can transfer or share Talktime up to 5 times in 30 days.
Step 5: Now you can see service charges which will be taken by Airtel to transfer funds.
Step 6: You are asked to enter Airtel Mobile Number (prepaid) in which you want to transfer the amount.
Step 7: After the transfer is done, you will receive the transaction details in a message.
Step 8: The number you have transferred the money will also be coming to the message that you have gifted talk times.
 [quads id=1]
Transferring Internet Data to Friends or Family Using Airtel (3g/4g)
As mentioned before, apart from transferring Talk Time, you can share your data with a fellow Airtel user. Here's how you can do it:
"Share" text to 121 from your Airtel mobile number.
You are getting a message like "now share 4G balance with your 3G / any four number".
Then, SMS "VIEW" to 121 to see your subscriber list.
If you want to add another family member/friend to the airtel number in the list, send "ADD <space> <10-digit-mobile-no>" 121.
Now you will get a confirmation message about that.
If members wish to remove someone from the list, then just 121 from SMS DEL <space> <10-digit-mobile-no>.
Then, you will reclaim the text confirming that same.
Out of 4 numbers in your list, you can now use your data by enabling data on your mobile phone.
Note that you can not take a key in a particular amount of data that you want to use them.
If you want to check "Share Data Balance", then you have to check your main data balance.
While transferring the funds to my mother or sister, this method has been very useful for me, who ask for recharge from blue and sometimes PayTM, Free charges and other online recharge options also work and do not work. Make sure that you have entered the correct Airtel number from which you are transferring the funds because there is no way to reverse the transfer.
Just before entering the mobile number, check the number only once the Airtel operator is not responsible for the loss of the balance in case of entering the wrong mobile number. Now share Airtel talk time or transfer mobile balance from Airtel. I hope you have successfully transferred to Airtel. Shifting balance is very simple and easy. Now I do not think you may have a problem while doing this process.
 [quads id=3]
Conclusion
So, above is the How to transfer Balance from Airtel to Airtel that you can use to play Xbox One games on PC. I hope you find this guide useful. If you like us How to transfer balance from Airtel to Airtel it, then share it with your friends, family, and relatives. Also, if you have any doubts, please do not hesitate to ask me in the comments section below. ??