A bedroom is a private space for resting and privacy. Some people prefer soothing colours for their bedroom. Others want bright and vibrant colours to feel alert and active. The correct colours will help you to set the appropriate mood.  Do you want a stunning bedroom design but are not able to choose the right colour combination? There are several types of paint that you can choose for your dream home or office. White and cream are no longer the preferred choices as people want to experiment with new colour combinations. If you want a unique but beautiful appearance, choose purple. It is different and elegant. Purple is a royal colour and denotes regality and luxury.
Choosing purple two colour combinations for bedroom walls is contemporary and trending and works beautifully for both adults as well as children's spaces. In addition, if you wish your room to be exotic at night, adding purple neon lights and signs can be an option.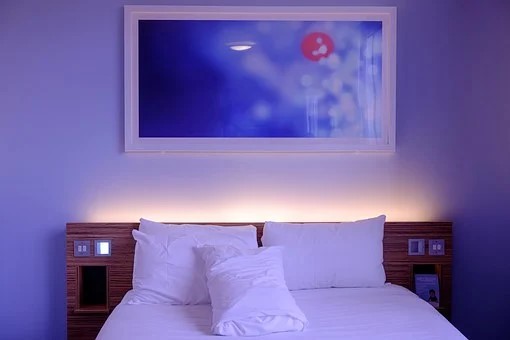 The purple colour can be incorporated in many different ways by choosing different shades and hues to create a new theme that is very unique and gives a wow factor to your bedroom.  Purple is associated with authority, royalty and power. The darker shades show off regality while the lighter shades are for compassion and romance. More and more people are now choosing purple as a popular choice for their bedrooms and even their other rooms.  Purple hues can also be blended beautifully with other colours to create a beautiful look for the bedroom.
  The purple two colour combination for bedroom walls is the perfect setting for a regal looking bedroom. Let us look at the different colour combinations that can be used for beautiful and royal bedroom walls.
Unique Ways to use purple two colour combinations for bedroom walls
Ditch the same boring design while thinking of painting the bedroom walls in your house. Make sure you experiment with purple two colour combinations as well as the patterns and textures to go with it. Painting is not the only way to get different shades to be a part of your bedroom. You can also put a wallpaper that has a wonderful design or pattern. Select a wallpaper design that is good to look at and is as per your liking and use it on the wall. While using a dark hue of purple for the whole room, go in for the ceiling paint in a white shade and create stunning contrast. Use a striking purple rug and put a white bed on top of it and throw in some purple cushions.
Wood also works well with purple, consider a bed with a wooden headboard as well as wooden flooring in combination with the purple walls in your bedroom. For a blast of colour in your sleep space, place a wall art or perhaps a contrasting neon sign from NeonMama above the bed. Choose purple drapes and furnishings.
Can you use Purple colour for the bedroom according to Vaastu Shastra?
According to the science of Vaastu Shastra, purple stands for trust and respect. It is the colour of faithfulness. It is a wonderful colour to be used on the bedroom walls. However, make sure that you don't use the colour for the entire walls of the bedroom as it can be quite overpowering for people. Instead, use the purple shades to accentuate one wall and it works better to use the lighter hues for the bedroom. Lighter shades like lilac and lavender are calm and soothing and work best for the bedrooms.
Let us look at some of the purple two colour combination for bedroom walls.
Purple and orange two colour combination for bedroom walls – Purple with orange is often considered to be an eccentric combination as both are bright and bold colours. Make sure to use the lighter versions of purple and orange to create a stunning look. If you are using purple shades on the bedroom walls, pick an orange-coloured art piece for the wall or home décor.
White with purple – White is a very versatile colour and can be combined with any other colour for a wonderful contrasting effect. The royal purple and elegant white are a marvellous purple colour combination for the bedroom walls.
Choose lighter shades of purple for the bedroom – Many people are hesitant to put dark purple shades in the bedroom. In that case, you can go for lighter shades of purple on their own or in combination with white which will give your room a fairy tale look. For a different look, you can even opt for silver or grey instead of white for a wonderful purple colour combination for the bedroom.
Purple and blue – Blue and purple combination works great to give an instant royal look to the bedroom.
Green and purple colour combination – Everyone wants to add an element of green to their room. Combine green and purple by using different patterns and textures and experiment with different combinations.
Neon colours with purple – Neon colours are very bold and loud which may not be the correct choice for the bedroom. However, if you want to incorporate neon colours, it is best to use them in small parts on the bedroom walls combined with purple. Don't put it on the complete wall.
All Purple wall – Go in for light purple shades for the bedroom walls for an all-purple look. If you are not too keen on having an all-purple bedroom, then use light purple paint to create the accent wall and get the other walls done in neutral colours.
Purple and Black – A unique combination, black and purple are both shades of elegance. The black and purple two colour combination for bedroom walls will provide a luxurious look to your bedroom. Use black in combination with a light hue of purple.
Beige and purple colour combination – Create a stylish and contemporary space by combining purple with beige. Use purple as the accent in the bedroom and paint the remaining walls in the wonderful soothing shade of beige. Beige will help to highlight the purple in the room.
Purple and matching pink two colour combination for bedroom walls – Pink is associated with happiness and feminity. Pink has always been used for the children's bedroom. However, now the pink colour is being used for the other rooms as well. Pink in combination with gentle hues of purple like iris or lilac can enhance the look of your bedroom instantly.
Don't forget to keep the furniture in the room simple. The pink and purple colour combination for the walls works very well for the bedroom.
Takeaway
Selecting a colour scheme for your bedroom, which is your intimate space, is essential. You should choose a colour according to how you want to feel when you are in that space. You can go in for something trending, something adventurous or just calm and soothing.  If you are looking for two colour combinations for bedroom walls, bring out your creativity and work with a variety of colour combinations. Purple is a wonderful colour for the bedroom on its own as well as when it is used in combination with other colours. There is no dearth of choices when it comes to purple two colour combination for bedroom walls, so go ahead and don't hesitate to experiment with different combinations to create a stunning look for your bedroom.