Benefits of Technology in Education
Introduction
Benefits of Technology in Education: 21st century is the era of technology. Everything has been vastly impacted because of technology including our education system. We can see students and teachers now using various technologies to make their learning process a better experience.
How has Technology Changed a Student's Life?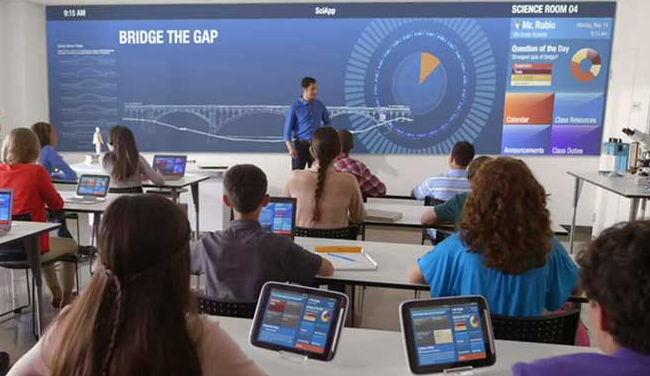 In a classroom, technology can actually make things quite better. It not only makes learning easier but it also helps teachers to maintain a better relationship with students. Here's how technology has been affecting the learning platform:
1.    Student Engagement
It has helped to make the learning material more interactive by creating things like virtual reality or augmented reality. Students now learn through various fun ways and enjoy doing research and receiving feedback. This has helped the students to take more interest in what they are learning.
2.    Involve Real World Issues
This innovation helps students to involve issues going on in the real world and use that in their studies. By the help of the internet, students can research real issues going on in the world that are connected to their course outline. This makes the understanding of the students better and they can perform better in class. satellite internet services can provide a viable solution for students who require access to high-speed internet but are unable to obtain it through traditional means.
3.    Simulation and Modeling
Technology has introduced simulation and modelling. A tool that helps brings the virtual world into life for students. Students can now look inside a human body and examine the processes that take place there. They can monitor the changes and movements happening in the outer space, all through simulation software. They can see how a tornado develops and what's happening deep under large seas. This has made students more interested into their studies than ever.
4.    Online Groups and Forums
By the help of the internet, students can now interact through creating online groups and forums. This has also made the student-teacher and teacher-parent relationship easier. Students can share their projects and work with other students and also receive feedback from their teachers. Online forums have helped them to take guidance from their teachers easily. It has also enhanced the relationship between a parent and a teacher. The teacher can easily inform parents of their child performance and let them know where they need improvements. It has also provided students with an opportunity to interact with the world and other students from different countries and broaden their thinking capabilities.
5.    Working Groups
Technology has enabled students to work in groups, have group discussion and be involved in activities instead of having a boring class lecture looking at their books. They use interactive tools to talk to each other and make projects. Classes lectures can get boring because it just has to do with listening but with technology, students are not only able to listen but also design and create projects that involve their full participation and their creativity.
6.    Constant Feedback and Guidance
Teachers have also been greatly advantaged through this innovation. They can easily access different course material and make the course more interesting through technology. They can easily be better teachers by providing constant feedback and guidance to their students. They provide students with proper academic training through this innovation. Through this, many teachers are helping students to develop problem solving skill and also help them improve their logical reasoning.
7.    Unleashed Students Inner Creativity
With the technology, students have unleashed their inner artist by designing fun applications and tools for other people to use. It has also thought them many skills that will be useful when it comes to their professional life such as critical thinking and problem solving skills. Students can easily now create digital content such as EBooks, presentations, videos etc.
Instead of thinking that internet and devices connected to it are a threat for students, the world of education has finally accepted it as a blessing and has used it to make the learning better and easier. Above mentioned are a few changes that have taken place with the help of this invention.
Types of Technology
There are many technologies that have been invested that are being used in the learning process. Here a few technologies that have helped the learning process to become better
1.    Flipped Learning
It's basically a form of learning where students do not have to rely on their teachers. Students learn through online forums and video lectures that are available on the internet. They can easily search for nay information and find that available on the internet. The concept is to learn in small groups that comprises of only students and not take help from any teacher. A great teacher is the one that can go along with the modern world and bring modern innovations to their teaching method. By making the classroom more Wi-Fi enabled and using various mobile technologies, they can create a more interactive environment for their students. They create student engagement through new technologies. Many students are availing services like college paper writing service for flipped learning.
2.    Remote Learning
One great thing that this innovation has provided is online classrooms. There's nothing better than having to study anywhere anytime at your own ease. This also generates our interest more. Students who cannot attend school because of their work or because of their financial instability can easily take advantage of this tool and study. They can attend classes through video calling and pre-recorded video and emails. Educated has become easier for students because of this invention. They can now take help from A Grade Essay to write better essays. It can modify according to the needs of students. Factors like time and distance have become invalid because now you only need a stable Wi-Fi and a device just to study.
3.    Gamification
Basically, the concept involves using different games to enhance your studying process. Teachers use games to teach students in a better way. It's a good way to get a student's attention and to increase their engagement and interest. Gamification basically involves providing students with a challenge and then when they achieve it, provide them with rewards and then harder challenges for them with more big rewards. A game requires your full concentration, your thinking capabilities, problem-solving skills. It requires you to stay motivated no matter what. And the rewards at the end of winning a game makes the student feel more confident and motivated about studies.
4.    Mind Mapping
Mind mapping is a way to make students learning more engaging and fun by using tools that can link their ideas together just like a human mind. Applications and software's like Mindmeister allow students to look into other students ideas and create more interaction. This software is more like an email.
5.    Digital Textbooks
What could be better when your books have also been affected by this invention? People think that tablets and cellphones are very expensive and books are a cheaper way to study when in reality it's the other way around. Textbooks are now more expensive and they cannot be constantly updated. Hence, technology has introduced a digital textbook. This is more fun and cost-efficient and can easily be updated with time.
6.    Big Data
Big data enable all the devices, cellphones and every other application to be connected and it makes sharing information easier. You can use this to get more relevant information and students now have access to unlimited information. It also enables teachers to get more insight into what works for students and what does not. They can easily know if a student faced trouble while studying this or not. It also enables a teacher to provide students with the information just in time and it also allows students to focus more on their studies.
7.    SMART Boards
Another important useful technology being used by the students are SMART boards. This is a really different creation that's basically a whiteboard but it is interactive and works with a projector which shows exactly what's on the computer. It has a vast impact in the learning process and has made learning and teaching easier for everyone involved in the education system like writing the academic writing of 1000 words essay. Students are able to see videos and pictures or any other kind of learning resources with a larger audience on these SMART boards and understand what they are being taught better.
8.    Social Media
Social media has been considered a huge distraction when it comes to studying. It's a general misconception that sites like Facebook, YouTube and Twitter are distracting and lowers student concentration. If teachers use the right methods and strategies they can actually turn these sites into a way of studying. Students can use this site for their studying interaction and hash tags can easily be a form of interaction that unifies students in one platform for learning discussions.
9.   Using Rewriting Tool
Chances are you just found the best solution for your friend's content writing needs. One invention that technology brought for students to help them generate original content is a rewrite tool. Such a tool can paraphrase your articles in the blink of an eye, helping you to save time and get more ideas on how your text should be rewritten.  Some tools allow you to change a word by another in case you don't like the synonym which the tool generated for you.  Undoubtedly, the next move is yours.
Conclusion
Hence, the above mentioned are ways and tools that have been created by solely technology and now are being integrated into education so that students can easily learn in fun ways.