IRCTC is the Indian Railways' train ticket booking portal. Because many people book tickets online, the portal receives a lot of traffic, and it's not always easy for a traveller to complete the ticket booking task quickly. The session expires by the time he completes the booking form and clicks the Submit button, and he is forced to log in and book tickets again.
We are all aware of how quickly tatkal tickets are reserved. During the summer or winter vacation, all tickets are reserved within 1 or 2 minutes. Tatkal Ticket Booking has become extremely difficult in recent years; if you are not very smart and quick during the tatkal time of 10 a.m., you will not be able to obtain a confirmed Tatkal Ticket. While booking tatkal tickets from a slow internet connection is no longer possible, it is also a time-consuming process on a fast internet connection.
Before you proceed with IRCTC tatkal booking, there are a few things you should double-check and have ready. 
Always visit the IRCTC website about 3 minutes before the tatkal ticket sale begins.
Select the trains with the most seats available under the tatkal quota.
Details of a journey should be kept handy.
Check how much it will cost you to book tatkal tickets and make sure your account/card has enough balance.
Always have a backup plan in place in case you are unable to book tickets on the train of your choice.
Keep your debit card/credit card/internet banking details written (or handy).
Remember that you can only book twice per month with an IRCTC user ID. If you've already used your ID twice in a month, you won't be able to use it a third time.
Best Way To Book Tatkal Tickets
Method1: Using AutoFill Extension
Using this extension will assist you in automatically filling in the data during IRCTC tatkal booking. Auto Fill Extension is a great way to save time when entering data during IRCTC tatkal booking. It is a feature that allows you to fill in the details (such as passenger names, ages, and so on) and save the details of your journey.
Go to the website myrailinfo.in.
Install the plugin in your Google Chrome browser; it is also compatible with Firefox.
Open the plugin after it has been installed.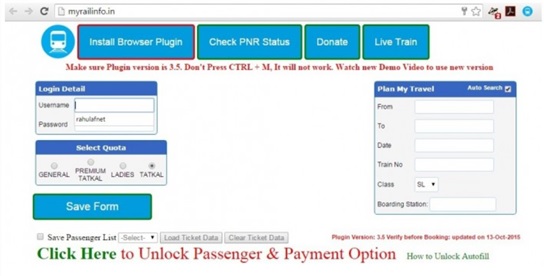 Fill in the blanks with all of the details of your journey.
Passenger information IRCTC password (name, age, sex, birth preference).
If you are paying with a credit/debit card, you can also fill out the payment information.
After you've finished filling out the form, click the 'Save Form' button.
Log in to your account on the IRCTC website.
After you've decided on a train and a class, click the BOOK TICKET button.
When you click on the plugin, it will fill in the blanks for you.
Select the PAYMENT Option and enter your payment information.
Fill in the payment information. If you have already filled out the payment information, skip this step.
Method2: Using Magic AutoFill by Amit Agrawal
Magic autofill is a straightforward tool designed to expedite the tatkal booking process. This is not a tool created or supported by the IRCTC or Indian Railways. IRCTC Magic autofill is a one-of-a-kind programme created by Amit Agarwal. This tool is not endorsed by the IRCTC.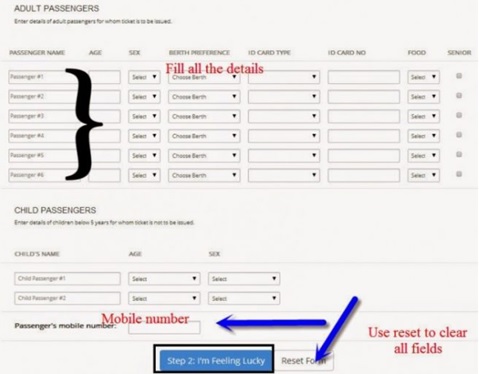 Many online users may have wondered why there is an 'I'm feeling lucky' option on the Google search engine page, and now you know why.
Go to this website page, ctrlq.org/irctc/
Fill out the reservation form with all of the details of the trip, from passenger information to payment information.
Select the 'I'm Feeling Lucky' option.
Simply drag and drop it into the bookmarks toolbar. (Use Google Chrome and, if prompted, install the Google Chrome Extension.)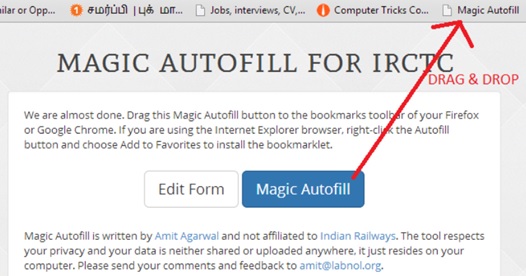 The next step is to go to the IRCTC website and click on a bookmark you created to fill out the form automatically.
If you're using Internet Explorer, make Magic autofill one of your favourites.
So, after selecting train details on the IRCTC tatkal booking website, simply click the magic button in your bookmarks toolbar. The magical autofill tool fills in the details in a split second with a single click. (It is also used to feed the payment option.) It saves a significant amount of time, even if only a few seconds. The Magic autofill option improves your chances of getting your tatkal tickets confirmed.
Conclusion:
Using Magic Autofill increases the likelihood of obtaining tatkal tickets before the site goes down. So, to book tickets from the IRCTC website, follow the steps outlined above.
Hopefully, you found this post useful. If you have any questions or comments about the preceding article, please leave them in the section below. We will gladly assist you.