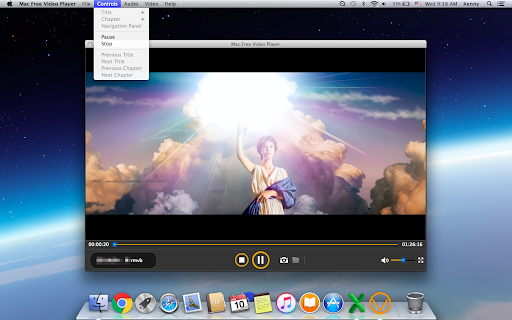 There are lots of apps fighting for the title of the "best media player for Mac." There are ones that excel at not consuming lots of CPU, or supporting Blu-ray Disc, or streaming content right from the internet, etc. So the choice is there.
QuickTime Player for Mac
If you've only used iTunes before and are searching for the best iTunes alternative for Mac, you might be surprised that there is another viable option already pre-installed on your machine — QuickTime Player.
QuickTime Player is probably the oldest video player for Mac out there, first released in 1991. Still, it does all the basics fairly well, playing videos, music, and even images. All only the most popular video formats, such as MOV, MP4, MPEG, are supported. All in all, if you rarely watch videos on Mac, QuickTime is not the worst option. But there are surely better ones out there.
VLC Media Player for Mac
Perhaps the most common suggestion after you're ready to graduate from the likes of iTunes and QuickTime Player is VLC.
VLC (stands for VideoLAN Client) is generally known for being able to play a wide variety of video formats.
While an external audio support is not there, VLC boasts robust subtitle integration that's able to change text size, text color, background opacity, and much more.
Overall, VLC is a decent option for everyday video watching (it's also a non-profit organization), with all the basics covered, but not too many outstanding pro-level features.
Elmedia Player for Mac
Too often people who need to download YouTube videos to their Macs resort to simply googling to find a way to do so. This is generally inefficient and could potentially even be unsafe, since most software advertising the ability to download something is the prime candidate for infecting your Mac with malware.
So meet Elmedia Player! Considered by many as the best media player for Mac, Elmedia supports video downloading and streaming natively. Here's how it works:
When you open the app, click on the download icon at the top
In the search field, either enter your video's URL or click on YouTube, Vimeo, or Dailymotion links to browse for it manually
With the video selected, choose the quality from the dropdown below and then click Download — the video will automatically be added to your playlist
But Elmedia is not just a simple downloader — it's a well-rounded Mac video player. The app supports virtually any video format and, using accelerated decoding, is able to smooth out otherwise choppy HD videos. In addition, one of Elmedia's secret features is the ability to extract audio tracks and save them as MP3s — get those YouTube singles to your Mac in no time!