[quads id=3]
Hello Friends, Today We Are Showing in This Post Best utorrent Alternative because Many People Problem Is utorrent So Here We Are Providing 9 Best utorrent Alternative.
If you have been a uTorrent user then I must tell you that you should know these 9 Best utorrent Alternative of uTorrent in 2018. By using any one of these alternatives of uTorrent, you can easily download torrent files i.e., video games, movies, videos songs and more. Since uTorrent desktop client software has started displaying crappy ads within their desktop app and many people tend not to use uTorrent anymore because of crappy ads, spam offers and it is also started working drastically slow.
List Of Best utorrent Alternative in 2018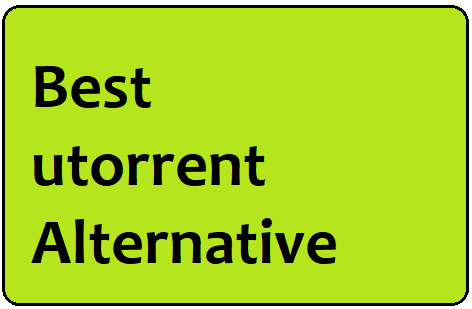 FrostWire
qBitTorrent
Vuze Torrent Downloader
Deluge
BitTorrent Torrent Downloads
Transmission
Free Download Manager (FDM)
CuteTorrent
Tixati
9 Best utorrent Alternative in 2018
1. FrostWire
FrostWire torrent client helps you to look for torrent files over cloud sources and search engines of BitTorrent. FrostWire brings you fully functional search, so you don't have to look for your desired torrent files on the internet because you can just search the files on FrostWire without leaving it.
FrostWire gives you complete control in your downloads, you can have control over all downloading features in this from mid to advanced level users that one downloading software could definitely offer in the Paid version of its software.FrostWire is Best utorrent Alternative.
Download FrostWire for Android
2. qBitTorrent
The interface of qBitTorrent client software and Android app is really plain, simple and minimal. Everyone can easily use it as an alternative to uTorrent without having any such problems with the UI of qBitTorrent.qBitTorrent best utorrent alternative.
[quads id=1]
qBitTorrent can be used to search torrents right from client software and download torrents without having to download the .torrent file in your PC first, however, you can also download the torrent files that are already on your computer. Just like uTorrent, qBitTorrent is also open source yet lightweight. Unlike uTorrent, qBitTorrent is completely free of embedded advertisements in software or Android app.
3.Deluge
Deluge yet another alternative of uTorrent that can really make your day since it doesn't contain any kind of crappy ads in its software client but it also resembles with uTorrent's software interface. Deluge is  best utorrent alternative. Deluge software works on same source /algorithm codes as uTorrent because both are using BitTorrent source codes which are available for free.
4.Vuze Torrent Downloader
Vuze torrent downloader looking for people for alternatives of uTorrent in 2018 desperately. Vuze torrent download is fast yet lightweight. Vuze offers two different version of its software i.e., basic free and premium version. Vuze torrent is best utorrent alternative.
Vuze torrent download comes with all the necessary features that you need. This torrent downloader comes with magnet link support just like uTorrent, integrated search, etc. Unfortunately, you will face crappy ads in the free basic version that covers the cost of running software free software. But, when you upgrade your account to Vuze premium you can use Vuze free of crappy ads, the wide range of premium features that will definitely help you to download torrents more easily.
5. BitTorrent Torrent Downloads
With BitTorrent, you are able to download large files right on your computer without having any such hurdles. It is the fastest torrent downloading desktop client known by it is users.BitTorrent is best utorrent alternative in 2018. Now, you can enjoy the fastest downloading speeds, a simple software UI interface, powerful options, unlimited downloads and much more.
Right now, BitTorrent is available for Mac, Windows and Android operating systems.
[quads id=1]
6. Transmission
The transmission has almost the same features as in BitTorrent client i.e., encryption, peer2peer exchange, web-based interface, UPnP and NAT-PMP port forwarding. Transmission is a Multiple platform BitTorrent client designed for easy, powerful use. With transmission, you can watch directories, bad peer blocklists, and the web interface. It is lightweight in size with web seed support, global, tracker editing and per-torrent speed limits, and more. Transmission is the best utorrent alternative in 2018.
7. Free Download Manager (FDM)
Free download manager (FDM) is all in one download manager including video files, music, torrent files however you can also download YouTube videos right from your computer. FDM is really efficient when it comes to speed up downloads by splitting files into parts and then download them one by one simultaneously. It is more like internet download manager (IDM).
Free download manager desktop client helps you to adjust bandwidth usage, control priorities for torrents files and even organize downloads by file types. In most download manager we usually face issues with resume download feature when downloading large files. So, get FDM for your computer today and enjoy the fast downloading with resume download on larger files without getting your important files broken. Last but not the least, you can download multiple files too with FDM.
[quads id=2]
8. CuteTorrent
CuteTorrent is a lightweight BitTorrent client with the simplest user interface that can be efficient when downloading and sharing torrent files.
Proxy support
Peer Exchange
Global and per-torrent speed limits
Sequential download
Embedded video player
Web seeding
DHT
IPV6
NAT-PMP
Local Peer Discovery Protocol to detect BitTorrent-local peers
BitTorrent protocol encryption: PHE and MSE
Ability to mount Disk Images to DaemonTools
Torrent filtering
and more…
Download CuteTorrent
9. Tixati
Yet another great torrent downloader i.e., Tixati. It is peer-to-peer file sharing software which aims to use the popular BitTorrent protocol. Tixati is one of the most advanced and flexible BitTorrent clients available. It uses the protocol which allows many peers to form a cooperative swarm and download very big files with great efficiency. Unlike uTorrent, Tixati does not contain any crappy ads or spam offers.
Easy to use, user interface
Ultra-fast downloading algorithms
Lightweight in size and load
DHT, PEX, and Magnet Link support
No java, no .net required unlike many others
Super-efficient peer selection and choking
Detailed bandwidth management with charts
RC4 connection encryption (for security)
UDP Peer Connections and NAT router hole-punching
RSS, IP Filtering, Event Scheduler
Conclusion
So, guys, this is you get Best utorrent Alternative easily. I hope you like it and if you do then subscribe to our website and follow us on social media as well for latest tech updates. Hopefully, you now understand 9 Best utorrent Alternative in 2018. If you have any problem or any idea.. then leave a comment below.?
[quads id=3]