Can't access your Outlook and get the error -Your Outlook data file cannot be configured? Read this blog till the end and learn different methods to fix this error.
Working with MS Outlook, the widely used web-based application by Microsoft for webmail, saving tasks, contacts, and calendar, etc? The amazing features and reliable user interface make it the ideal solution for all the mailing needs.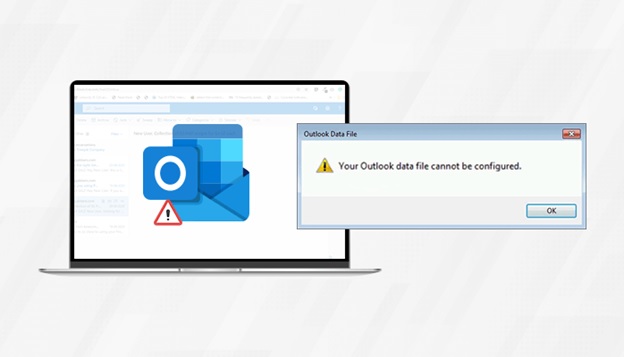 However, sometimes despite all its features and reliability while accessing it, users encounter errors as Outlook data file cannot be configured Windows 10.  If you are one of them who is facing this same error. Then this technical blog will help you to fix this error along with understanding the relevant factors. Let's start the blog by first understanding the factors behind the error your Outlook data file cannot be configured.
Factors Responsible for Outlook data file cannot be configured error
Before we discuss the fixes to the Outlook error you must know the factors that lead to this error.
Roaming Profile: Generally, users working with Roaming profiles encounter this error. As these profiles work on a shared network so get easily with profiles and establish communication with other computers reliably. While performing this task, users get this error – your Outlook data cannot be configured.
Lost OST or PST File: When the system is working with MS Outlook, and can't find OST or PST file, then also users this error pops up. 
Damaged Data File: Logical error, Malicious attack, or many other synchronization issues may also result in such Outlook error.
Sudden System Crash: Sometimes while moving the data file, PC or computer crashes suddenly. This sudden crash expels the configuration process and results and leads to this Outlook data file cannot be configured Windows 10 error.
How to resolve the error Your Outlook data file Cannot Be Configured?
Now you are familiar with the major possible factors of the Outlook data file that cannot be configured error. So, let us discuss some DIY's to fix this Outlook Issue:
Try to resolve the issue by uninstalling and reinstalling MS Outlook.
Issues also occur due to the Outlook Path issue, so recheck the Outlook data files path on your computer or PC.
Somehow if the above DIY steps fail to fix the error, then try to solve the error with the below manual methods:
Method 1: Fix Outlook file (.ost ) cannot be configured manually 
MS Outlook 2007 and its earlier versions offer an in-built repair tool termed as scanost.exe. In older versions scanpst.exe tool is present. But scanpst.exe is not able to find any synchronization errors. So, if the in-built tool fails to recover your OST file, then try to delete and recreate it.
First, Exit from the MS Outlook and view the Control Panel.
Now, Search the "Mail" option and do double press on it to open.
Choose e-mail accounts when the dialogue box for mail set up displays
Hit on the Data Files >> Press on the Exchange account.
Now tap on the Open File Location option in the Mini Toolbar.
Do Right-click on the OST file, and tap on the delete button to delete that file.
After completing the above steps successfully, your OST file will be deleted. Now, when you start with MS Outlook, a new PST file gets generated.
The above-discussed method will only work if the exchange server and outlook account work in appropriate synchronization. You may also have to face permanent data loss.
Method 2: Resolve "Outlook Data file (.nst) cannot be configured" Error
When users configure their Office 365 profile in MS Outlook and work in offline mode, an NST storage file gets created automatically in 2016, 2010, and it's below versions. Just go as per the below-listed instructions to resolve the Issue "your Outlook data file cannot be configured" :
Step 1: Check your system is not corrupt
Type cmd in the search box in order to open the command prompt and hit enter. Now type SFC/scannow and Hit on enter. To execute this command, You may need the admin privileges.
Step 2: Install the recent windows update
Go to the search box and type updates in the search box. The wizard will open >> check for updates and install the latest ones if any updates are present.
Step 3: Remove unnecessary files
Press on window + R and type "Cleanmgr". Now choose the OS partition, then hit on the "OK," >> Hit on "clean up system files" options.
The above discussed are different methods to fix the Outlook data file cannot be configured Windows 10. These methods generally resolve the error but sometimes you may have to face permanent data loss. In case if you have a corrupt OST File then first you need to recover those files. You repair any kind of Corrupt OST File with the help of Exchange OST Recovery very easily. Then only you can execute the above method to get rid of the Outlook Error.
Final Words
Here, in this technical write-up, we discussed different methods to fix the issue- your Outlook data file cannot be configured. I hope after reading this blog you will successfully overcome this Outlook issue.